Twitter really doesn't want you to screenshot tweets to share them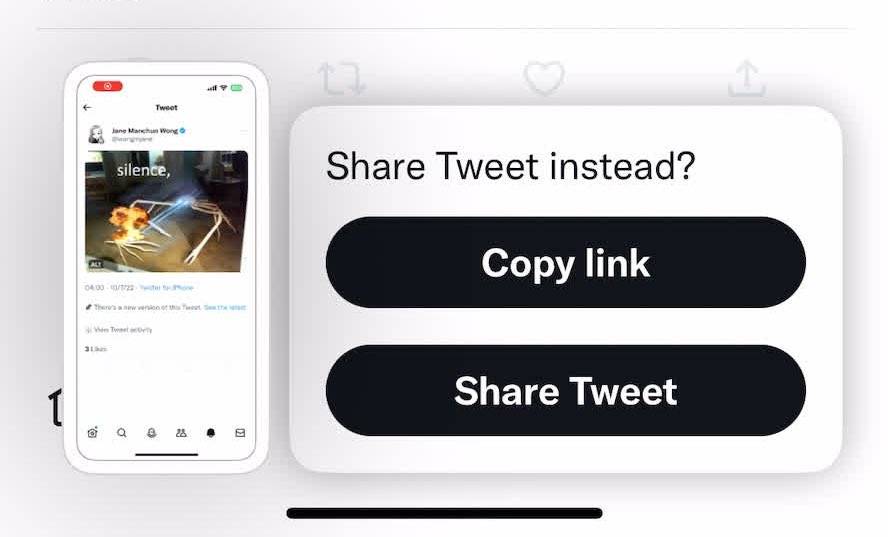 Cross-posting content on many social media platforms has become a modern annoyance. You'll notice viral trends exploding and reappearing across the majority of the well-known platforms if you have accounts on them. t. Recently, YouTube took action to prevent users from cross-posting to TikTok and Instagram. Twitter now appears to be following suit, asking users to share tweets when it notices them capturing screenshots.
Tweets are shared as screenshots on Reddit, Instagram, and a variety of other websites. When users attempt to take a screenshot, Twitter has started displaying pop-ups to propose other, in-app activities they could do. Multiple complaints of pop-ups with buttons to copy a URL to the tweet, share the tweet, or both are shared by TechCrunch. These have only been shown on the iOS version of the app thus far, although testing may eventually include Android as well. We take a look at how some of these prompts look, according to app analyst Jane Manchun Wong and social media strategist Matt Navarra:
Twitter is trying to persuade me to Share Tweet or Copy Link instead of taking a screenshot of the Tweet pic.twitter.com/vwFYNsf003

— Jane Manchun Wong (@wongmjane) October 6, 2022
Twitter doesn't want you to screenshot tweets anymore

It wants active users on platform viewing tweets INSTEAD of via screenshots on rival platforms

One of these now pops up when you take a screenshot 👇 pic.twitter.com/YY0GtF3lVb

— Matt Navarra (@MattNavarra) October 7, 2022
Sharing tweets as screenshots distorts engagement numbers for content producers on Twitter and understates the audience reach of their work. Twitter is probably just interested in this because it is unable to charge for screenshot views that are shared on other social networking sites.
We will agree that Twitter should be commended for utilizing a pop-up to deter this action rather than attempting to completely prevent screenshots. A good compromise, according to some devoted Twitter users, would be to watermark app screenshots the same way TikTok watermarks videos. Even if it might not address Twitter's fundamental issue, doing so would at least serve to remind viewers of the source of the post.